Hajnalka Vincze
The turbulences in the European and transatlantic skies over the course of the past year obviously have not been without impact on the coexistence between the Atlantic Alliance and the European Union's (EU) Common Security and Defense Policy (CSDP). Long-time taboos have been lifted, initiatives are multiplying, new perspectives seem to open up, and immediately generate powerful backlashes. The outcome will depend largely, once again, on the choices made, and determination displayed, by France.
1. An unprecedented alignment of planets
- flashback on the CSDP-NATO cohabitation
- the Brexit-Trump double trigger
- profound transatlantic trends
- two additional factors (budgets and public opinion)
2. CSDP's challenge: how to take advantage (or not) of a once-in-a-lifetime opportunity?
- acceleration: the 2016 winter package and its aftermath
- the European Defense Fund: potential for a positive breakthrough - persistent reluctance on key points
- Permanent Structured Co-Operation: inclusiveness, the triumph of the German vision
3. The NATO puzzle: how to counter the Trump effect?
- beyond (or because of) doubts: reinvigorating funding and commandments
- "Trump" factor setting limits on decision-making and intelligence-sharing
- EU-NATO cooperation-competition
Conclusion: What role for France?
- traditional refusal of the inherent imbalances of the "misalliance"
- a position still defended, but with less zeal and coherence
- contradictory messages from the new President (Sorbonne speech vs. Strategic Review)
The full text is available in Defense & Strategy n ° 42, Autumn 2017, pp.5-29.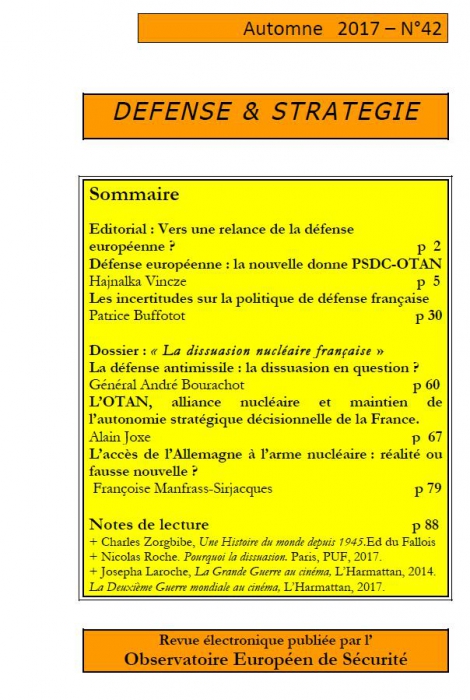 Tags:
défense européenne
,
france
,
ue
,
ue-otan
,
otan