Hajnalka Vincze
A casual observer of Concordia – code-name for the European Union's first-ever military operation, conducted in Macedonia – would be first impressed by the abundance of symbols in almost every aspect of the mission. Not only do the politicians' declarations put the emphasis on the "symbolic European message" carried by the operation[1] or present it as a "significant step forward in the long process of European integration"[2], but also the EU seems determined to plant its blue flag all over the place in order to increase its visibility – a goal explicitly identified as one of the key objectives of the mission.[3]
Accordingly, the 320 troops (from 27 countries) wear their national uniforms with insignia bearing the letters "EUFOR" and also a badge with the European colours (blue with gold stars) on their right shoulders. The name of EUFOR's Heliport is not less representative: "Camp Schuman" is an obvious reminder, just like the large European flags painted on the side of each helicopter.
This marked emphasis on the visible presence of the European Union, paired with the modesty of the operation (both in size and with regard to its ambitions), may lead to a precipitated conclusion about Concordia being like an end in itself – a feeling manifestly shared and largely conveyed by the BBC regional correspondant who suggested that the mission appeared to be more important to the EU than to Macedonia.[4]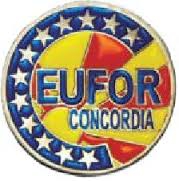 Although there is little doubt about the accuracy of this latter remark, from this to conclude that Concordia is a highly symbolic but fundamentally meaningless debut for the EU's evolving military dimension would be utterly misleading. The present paper argues that it is Concordia's context – or rather contexts, since the term refers to general conditions and specific situations related to the European Union's security and defence dimension, its Balkans policy, NATO-EU cooperation and rivalry, competitive and contradicting visions about the EU's role and "finalité" – which really confers to the EU's first military mission all its significance. For the sake of the analysis – and within the limits of this paper – we will first only pinpoint some elements to be considered when describing the key parameters of the EU's operation, then briefly highlight some of the most crucial issues that should be taken into account when trying to apprehend the new "acquis" constituted by Concordia with regard to particular policy areas, as well as to the overall process of European integration.
The other side of the story: why look twice at Concordia
In a contrast to the official emphasis on the mission's symbolic value and its "historical" significance, most commentators have stressed the modest scale of the EU's military operation both in size, in aims, as well as concerning its allegedly no-risk character and semi-independent functioning mechanisms. A closer look, however, would allow to relativize these widespread criticisms and appreciate Concordia for what it is, in addition to the potentialities for which it paves the way.
It is true that being a 400-strong force (with 320 military and 80 civilian personnel), the EU's operation is clearly on the lower end of the spectrum.[5] Nonetheless, there is no reason to suppose that it would not be perfectly appropriate for the required tasks – its predecessor, NATO's Allied Harmony operation, had roughly the same number of troops in the field. As Force Commander Brigadier-General Pierre Maral put it: "Concordia is not a large force. It consists of less then 400 people and a big part of it is in my Headquarters. I have only a few military assets (...): the minimum necessary for situation awareness – to understand the environment, the crisis itself, and what could be the beginning of an incident that could rekindle the crisis – because our main objective is prevention."[6]
In fact, the "limited" objectives of the operation were another feature often evoked to minimize the importance of Concordia. No doubt that the initial mission statement is as general as it is possible to get: "The operation's core aim remains to contribute to the security of international monitors in the country, thereby contributing to a stable and secure environment conductive to the implementation of the Framework Agreement, to the strengthening of the democratic processes and to enhancing economic development".[7] All these rather vague notions do not, however, alter the fact that – besides taking on new responsibility for additional tasks, such as participation in the illegal weapons collection plan – the daily patrols of EUFOR's 23 to 34 light field liaison teams and 8 heavy field liaison teams do exactly what it is required to be done in the current situation in Macedonia: show a visible international presence to promote general atmosphere of security and deter the resurgence of ethnically motivated violence.
Most commentaries repeatedly pointed out that EUFOR inherited a situation far calmer than that which NATO soldiers faced when they first arrived, in June 2001, and were tasked with desarming ethnic Albanian rebels.[8] While it is – most fortunately – true that the situation in Macedonia is on the way of stabilization (officials in Skopje expressed their hope that with its six-month mandate, Concordia "is the first operation for the EU, but the last for Macedonia"), it is to be recalled that just weeks before EUFOR took over from NATO, the local press predicted a possible "spring offensive" from the part of the Albanian National Army, a guerilla group uniting opposants to the Ohrid Agreement and reportedly concentrating their efforts in majority-Albanian districts, the same areas where precisely EUFOR patrols operate. Though Lazar Kitanovski, the Macedonian Prime Minister's security advisor acknowledged that "There are several armed groups consisting of 20 to 30 men but they do not pose a serious threat", the fact that offices of the moderate ethnic Albanian party in Gostivar and Skopje were raked by gunfire and hit by a rocket launcher respectively, demonstrates the fragility of the peace process. [9] Apart from this kind of sporadic burst of violence, diplomatic incidents like the one which occurred at NATO's Task Force Fox farewell ceremony in December 2002 (after which NATO ambassador M. Bigman was summoned by the Macedonian Ministry of Foreign Affairs to take notice of the official protests as regards the "anticonstitutional" use of the Albanian language – the speeches had been translated simultanuously into Macedonian and Albanian – as well as the "inadequate designation" of the country as "Former Yugoslav Republic of Macedonia"[10]) illustrate the long way ahead before normalization can be considered as completed.
Finally, while not entirely untrue, the often-heard criticism that EUFOR is not a "genuine" European Union operation since conducted under the umbrella of NATO, is also to be examined more closely. On the one hand, it is worth to be recalled that all the NATO troops participating in Operation Allied Harmony were European, with only 30 Americans serving as a support staff. Also, EU member states had led all NATO operations in Macedonia – first the United Kingdom, followed by Germany and then the Netherlands. On the other, while the principle of "separable but not separate" forces was one of the key criterion when planning and implementing the operation (with Concordia Operation Headquarters located in SHAPE – Supreme Headquarters of Allied Powers Europe –; Deputy SACEUR – Supreme Allied Commander Europe – Admiral Rainer Feist assigned as EUFOR Operation Commander; and NATO forces being identified as operational reserve for extraction capacity), the norms established by the joint action, as well as the modalities of their execution guarantees a well-articulated and clearly defined EU-NATO partnership. According to the EU Council Joint Action, "The entire chain of command will remain under the political control and strategic direction of the EU throughout the operation, after consultation between the two organisations. In that framework, the Operation Commander will report to EU bodies only. NATO will be informed of developments in the situation by the appropriate bodies, in particular the PSC (Political and Security Committee) and the Chairman of the Military Staff"[11]. From the Force Commander's point of view: "We take our orders from Brussels and the EU Ambassadors Committee, the Military Committee and the Military Staff. The EU transmits the orders and they come to me through the Deputy SACEUR who is, as we say, double-hatted: he is the D-SACEUR of NATO and the Operation Commander of the EU mission. He acts only under the command of the EU organisation in Brussels and then gives me my orders with EU and NATO elements in co-ordination with NATO in Naples, Italy. Naples is responsible for the full operation in the region. So, it is an EU chain of command which relies on NATO structures and on NATO communication".[12]
Most importantly, it is to be noted that Concordia, in its quality of "operation carried out with recourse to NATO assets and capabilities", is only one of the two main scenarios for taking action under the aegis of ESDP. And while the overwhelming majority of commentators had seen it as a proof that the EU is not yet ready to take "autonomous" military action (i.e. the other scenario), political voluntarism decided otherwise... But irrespective of subsequent developments, the first EU-led military operation serves as an invaluable revelator of political constraints and possibilities, as well as it provides a highly needed test and model for procedural arrangements both within the European Union and with regard to the EU-NATO "strategic partnership".
A multiple-issue operation: Concordia put into context
Apart from the quite obvious and much highlighted fact that the EU's first military operation, in close co-operation with NATO, was launched in the midst/and in spite of deep divisions and bitter differences over Iraq,[13] there are many other factors to be considered in order to apprehend the role of Concordia as a revelator and a model in a number of crucial issues. The below list can only propose a brief enumeration of these very complex and sometimes fairly controversial questions, each of them constituting a vast subject on its own right.
The once missing part of a comprehensive EU crisis management policy
As Council documents explicitly stress it: "The EU's take-over of the international security presence (...) is a further step in the Union's growing, long-term commitment to stability as well as to economic growth and prosperity in the former Yugoslav Republic of Macedonia and the region. The military engagement supports and reinforces the EU's policy and the already substantial EC assistance to the country (...) The EU is deeply engaged in the country. It has facilitated the Ohrid Framework Agreement and accompanied its implementation, together with NATO and OSCE. The Stabilisation and Association Process (SAP), including its strategic objectives, its economic and political conditions and its instruments is at the heart of the EU's policy towards the Western Balkans. The SAP is a long-term policy approach in support of further policy reforms that are necessary for further progress towards the EU (...) The EC provides various forms of assistance, notably through the CARDS programme, to support all efforts in the country to develop and maintain a secure and stable environment. Together with bilateral assistance from EU Member States, the EU provides around two thirds of all aid to the former Yugoslav Republic of Macedonia. The EU-led operation complements and supports these measures".[14]
In fact, without its military component being up and ready, the EU's whole range of crisis management instruments – which cover the overwhelming part of security and stabilization issues, from conflict prevention to reconstruction, promotion of economic growth and social cohesion, notwithstanding the strong incentive created by the prospect of future EU membership –, along with the way they are perceived, suffer from a most prejudicial lack of coherence between its various elements due to the absence of tangible credibility to back them up.[15] Concordia – within its limits – is a crucial first step to rectify this chronic distortion by extending the EU's operational competences and capabilities beyond the non-military field, to the whole range of crisis management activities.
A(nother) proof of ESDP "in action"
After the Laeken Summit declaration on the "operationality" of ESDP[16], it remained to be seen how to translate into practice the different provisions related to the EU's new security and defence dimension. Given that on some crucial, politically sensitive issues, the offcial definitions were the fruit of fragile compromises and the result of a certain degree of "constructive ambiguity" which had to be sorted out (at least to some minimal extent) so that the first missions could begin, the actual implementation phase only was initiated in January 2003. And the process has sensibly accelerated since then: the Greek presidency report on ESDP in June 2003 noted that "the EU has launched three crisis management operations. In the Western Balkans, the first EU-led civilian crisis management operation, the police mission in Bosnia-Hezegovina (EUPM) and the first EU-led military operation "Concordia", in the former Yugoslav Republic of Macedonia (fYROM), with recourse to NATO's assets and capabilities, are progressing smoothly and successfully. The first EU-led autonomous military operation "Artemis" has been launched, in Bunia, Democratic Republic of Congo (DRC), in accordance with a mandate of the United Nations Security Council".[17]
In this context, it is quite obvious that Concordia only represent one particular type of crisis management mission for ESDP (the non-civilian – by opposition to EUMP –; and non-autonomous – in contrast with the Artemis operation – one). Also, within its own category (i.e. EU-led military operation with recourse to NATO assets and capabilities), the Union's Macedonian mission is manifestly considered as a pre-figuration for other, more ambitious undertakings.[18]
A model for ESDP procedures and practices
It comes, therefore, as no surprise that Concordia is often described as a "test-run" for future EU operations. In fact, by putting into practice ESDP procedures and mechanisms that previously had only existed on paper, the mission in Macedonia will undoubtedly serve as a depth of experience and a future point of reference, not exclusively with regard to the same type of undertakings, but also for improving ESDP's modus operandi in general. In this respect, the arrangements concerning third state contributors[19] or the financing mechanism of the operation[20] are particularly revealing, just like the questions raised by European Parliament members on the subject of democratic oversight and accountability[21] are supposed to remain an important element of future debates.
NATO-EU relations between cooperation and rivalry
Since even a brief overview of NATO-EU interface – with agreements on guaranteed access to allied assets for EU-led operations (Berlin Plus arrangements), security of information –, and of general divergences over the very nature and functioning of transatlantic relations would largely exceed the present framework, the following observations will be limited to some Concordia-related remarks.
While acknowledging that "the handover of authority from NATO to EU on 31 March 2003 indicates unprecedented coordination and cooperation" and is a sign of a genuine "NATO-EU strategic partnership"[22], it would be difficult not to see that this is because EU actions on the basis of close cooperation with NATO are considered by the United States as the less bad scenario. As one analysis on NATO-EU relations put it: "The Americans believed that what happened at Berlin was the stuff of nightmares. They have subsequently realized that the EU alternative was even worse. Washington, therefore, is more than willing to negotiate on issues it refused to discuss openly in 1996, and to be more forthcoming on ensuring an effective European pillar within NATO. Moreover, having had the experience of the last few years, the Americans are highly unlikely to attempt to block the launching of European missions from within NATO for fear of undermining the European pillar once again and causing Europeans to look elsewhere for an institutional basis for their military aspirations. ESDP has at least made it clear to the Americans that Berlin was a far more desirable outcome than they thought at the time. In this sense at least, it provides an opportunity for Europe to assert itself in the defence sphere. The EU may, paradoxically, provide the key to Europeanising NATO".[23]
Yet, (beside the fact that not every European government would necessarily share the vision expressed by the concluding remark, arguing perhaps that ESDP is also, and above all, part of the EU as a political project) events appear to show clearly the limits of American "willingness", as well as they undoubtedy prove that ESDP cannot be and is not restricted to "missions from within NATO". As some noted: "the embryonic CESDP changes the balance in the EU-NATO relation. NATO is no longer the only organisation in which the future of the defence and security of Europe is discussed. The EU is availing itself with a wider range of instruments than NATO (both economic and military)".[24] In these circumstances, there is no wonder that a certain amount of rivalry between the two organisations was perceptible even in relation to cooperatively managed operation Concordia. To mention just one example, NATO's press officers have not miss one single occasion to stress – "as a reminder" – at every weekly press briefing in Skopje, that "although EUFOR is at present conducting the visible part of the entire mission in Macedonia, the role of NATO still is one of extreme importance".[25]
The same approach is echoed from the part of the host country. This was most manifest in automn 2002 when Macedonian politicians appeared divided over which security organisation should assume the mission. Some believed that it would be best for the NATO force to be replaced by EU units, while others favoured an extension of the NATO mission (Macedonia's ambassador to NATO, Nano Ruzin, said clearly that his country "does not want forces that would use Macedonia as an experiment". On 3 November, politicians, cabinet officials, journalists, academics and other experts gathered in Skopje for a one-day meeting called by president Boris Trajkovski to discuss the matter.[26] Yet, as it was quite obvious that the issue would be settled not in Skopje but in Brussels, the advice Macedonians seem to have followed was to wait until the debate within the two organisations is resolved, or – as one high-ranking NATO official reportedly recommended them: never chose between the EU and NATO, since one will not chose between his American wife and French mistress: one would try to keep them both".[27]
The intra-European puzzle
It seems, nevertheless, that for EU-governments this sound advice is even more difficult to follow. If they appear particularly diveded over the issue, it is mainly because in order to decide how to ensure appropriate articulation between the two organisations, one should agree on the crucial question "What kind of Europe do we want?" (or, to put it more correctly, "who wants what kind of Europe?"). Since European divisions on the subject of transatlantic relations and – closely linked to this latter – the EU's political "finalité", has been one of the most widely discussed issues over the last months,[28] and because to mention them even succinctly would go far beyond the limits of the present paper, only one Concordia-related illustration will be pointed out.
In fact, it is more than revealing to observe the different emphasis – perfectly within the logic of "constructive ambiguity" established in Saint-Malo and cultivated ever since – in British and French official reactions to the launch of the EU's first military mission. While British Defence Secretary Geoff Hoon said that "we fully support this operation which is being mounted in full cooperation with NATO" and for UK Minister for Europe Denis MacShane Concordia "fully shows how European military activity complements NATO", official French MoD communiqués consider that "thanks to Concordia, the European Union will guarantee stability and the pursuit of the peace process in fYROM" and for French Prime Minister Jean-Pierre Raffarin the Macedonian mission is "a means to reassure our American friends of Europe's willingness to share the burden of European security"[29].
The whole picture: Concordia in the light of its successors
As it was stressed before, the EU's military "première" in Macedonia is to be considered and evaluated for what it is: the first European Union undertaking in one particular category of ESDP crisis management missions (military operation with recourse to NATO assets and capabilities). A brief overview of the debates surrounding the idea of a larger operation of the same type, and the – quite unexpected – implementation of a first mission in the other category of operations (conducted independently from the Alliance) allows to broaden the context in which Concordia is to be apprehended.
After the Copenhagen Summit Presidency Conclusion indicated "the Union's willingness to lead a military operation in Bosnia following SFOR", the media reported that Washington, citing security reasons and continuing problems with war criminals, had expressed some concerns about the prospect of the EU taking over the Bosnia operation.[30] NATO Secretary General Robertson insisted that there needs to be a full discussion in NATO before handing the mission over to the EU, while US officials said it was "premature" to discuss the transfer.[31] It seems that in the case of SFOR, American considerations related to the maintenance of US presence on the European bridgehead, reluctances with regard to a more marked EU role in the security and defence field, as well as an overall strategy of global force realignment are much more to be taken into account than in the case of the rather modest Macedonian operation.[32]
Moreover, the decision of the EU to respond affirmatively to UN Secretary General Kofi Annan's request by launching a military operation in the Democratic Republic of Congo[33] is to be seen as a groundbreaking step forward. Not primarily because it is the first EU operation outside Europe, but above all because it is the first one to be conducted by autonomous means, and, most importantly, without previously concerting about it in a NATO framework (cutting short to any speculations about a so-called "right of first refusal"). It demonstrates the quite obvious, but often camouflaged, fact that ESDP is first and foremost an EU project and that, however important and precious the co-operation with NATO is, it cannot be taken as a political prerequisite for all type of European Union crisis management operations. While NATO Secretary General George Robertson tried to underline that "NATO did not want to participate", the remarks of one of his close collaborators cast another light on the issue: "Obviously, we could not be hostile to a humanitarian operation, but we are most disturbed by the methodology: at first, France said that it would be an international force on the basis of a "coalition of the willing", then it planted the European flag over it. How not to consider it as a deliberate plan to shortcut the "permanent arrangements" agreed between NATO and the European Union?"[34] In fact, the launching of the EU operation in Congo indicated, above all, that the Cologne European Council conclusions stating that "the Union must have the capacity for autonomous action, backed up by credible military forces, the means to decide to use them, and a readiness to do so"[35] are not just empty words: there is a real choice within which Concordia-type operations are only one of the options.
In fact, all these debates and uncertainties tend to raise questions about the much-publicized "new era in NATO-EU partnership" and about the not less emphasized incapacity of the EU to "go it alone". The revelation that American willingness to effective burden(and influence)-sharing is cannot be taken for granted, and that capability-focussed arguments were overstressed does not mean, far from it, that European capabilities are not to be improved (on the contrary) or that NATO-EU cooperation is not to be considered as highly desirable. It only means that it is time to concentrate on the overwhelming importance of political factors guiding ESDP – a key part of the political project for the European Union to become an international actor on its own right –, and act accordingly.
***
Hajnalka Vincze is a research fellow at the Hungarian MoD Office for Strategic and Defence Studies. She currently finishes her DEA at Strasbourg IHEE (Institut des Hautes Etudes Européennes). At the Office, she covers CFSP and ESDP-related issues, as well as French foreign, security and defence policy. Her publications include From great-power illusions to the Europeanisation of ambitions: French national identity and foreign policy In Foreign Policy Review Budapest (in English), spring 2003; The EU's response to the events of 11 September (in English) in Responses to terrorism, Budapest, 2002; A stronger military role for the EU in the Balkan region? (in English) In Studies in Contemporary History and Security Policy, Vol.11, Bern 2003; The priorities of French European policy (in Hungarian) Budapest 2000; and she contributes regularly to the Journal francophone de Budapest where she covers European Union issues.


[1] Speech of French Prime minister Jean-Pierre Raffarin to French troops of EUFOR, Skopje, 16 April 2003.
[2] Statement by Commission President Romano Prodi on the commencement of operation Concordia, Brussels, 31 March 2003.
[3] As stated by Council president Papandreou when auditioned at the European Parliament plenary session. Délibérations du Parlement européen en session plénière à Strasbourg, le 12 mars 2003 : déclarations du Conseil et de la Commission au sujet de la Mission militaire de l'Union dans l'ancienne république yougoslave de Macédoine (7421/03, PE 61).
[4] Oana Lungescu, The EU gets its gun, http://news.bbc.co.uk/go/pr/fr/-/2/hi/europe/2896083.stm
[5] It is worth to be noted that even if 27 nations (13 EU member states – only Denmark and Ireland preferred to be absent – 7 non-EU NATO allies and 7 soon-to-be NATO members) contribute to EUFOR, the majority of the troops come from framework-nation France (188), Germany (70) and Belgium (40). In other words the so-called "gang of four" (Paris, Berlin, Brussels and Luxemburg agreed at their 29 April meting on an ambitious European defence agenda which anticipated – among other things – the establishment of an independent "nucleus" of planning capabilities) is particularly well represented in EUFOR.
[6] Interview with Pierre Maral, in Southeast European Times, Skopje, 23 April 2003.
[7] Council document 6916/03, EU-led Operation in Former Yugoslav Republic of Macedonia – Master Messages, Brussels, 28 February 2003.
[8] Following the signature of the Ohrid Peace Agreement on 13 June 2001 NATO launched, on the request of Macedonian president Boris Trajkovski, Operation Essential Harvest on 15 June and its 4800 troops undertook the collection of weapons belonging to ethnic Albanian guerillas. After NATO's announcement that all weapons had been collected, on 27 September 2001 Essential Harvest was replaced by Operation Amber Fox, which was renamed Operation Allied Harmony in December 2002.
[9] See http://www.balkanpeace.org/rs/archive/feb03/rs223.shtml .
[10] Escalandre diplomatique pour le dernier jour des "Renards" de l'OTAN, Dnevnik, 16 December 2002, translated by the Skopje Editorial Office of Courrier de la Macédoine.
[11] Council Joint Action 2003/92/CFSP of 27 January 2003, on the European Union military operation in the Former Yugoslav Republic of Macedonia.
[12] Interview with Pierre Maral, in Southeast European Times, Ibid.
[13] President Prodi warned – not without a certain amount of dramatization – that this "significant step may be overshadowed by the gravest crisis that has affected inter-European and transatlantic relations and the United Nations since the Second World War". Statement by Commission President Romano Prodi, Ibid.
[14] Council document 6916/1/03, EU-led Operation in Former Yugoslav Republic of Macedonia – Master Messages, Brussels, 6 March 2003. (emphasis added by author). For a comprehensive overview of EU non-military involvement in the stabilization of Macedonia, see BOYER André (rapporteur), Accord de stabilisation et d'association entre les Communautés européennes et l'ancienne République de Macédoine, Rapport d'information N°152 (2002-2003) au Sénat français.
[15] About diverse aspects of European involvement in the Balkan region, see VINCZE Hajnalka, A stronger military role for the EU in the Balkans? In Studies in Contemporary History and Security Policy, Vol.11, Joachim Krause, Andreas Wenger and Lisa Watanabe (eds.), Unraveling the European Security and Defense Policy Conondrum, pp. 147-161 Bern et al. Loc.: Peter Lang, 2003.
[16] European Council Laeken, Conclusions of the Presidency, Annex II. Declaration on the operational capability of the Common European Security and Defence Policy. 14-15 December 2001.
[17] About the EU police mission in Bosnia-Herzegovina, see NOWAK Agnieszka, L'Union en action: la mission de police en Bosnie, EU Institute for Security Studies, Occasional Papers N°42, January 2003; and ISIS Europe European Security Review, N°16, February 2003.
[18] About the EU's Artemis operation in DRC and projects to take over NATO's SFOR operation in Bosnia-Herzegovina, see the last chapter of the present paper ("The whole picture: Concordia in the light of its successors").
[19] See: Political and Security Committee decision on setting up the Committee of Contributors for the EU-led operation in FYRM (6451/03), Brussels, 18 February 2003; Political and Security Committee decision on the acceptance of third States contributions to the EU military operation in FYRM (7192/03), Brussels, 11 March 2003. It is to be noted that in accordance with the NATO-EU Framework Agreement of 16 December 2002, in this type of operations (EU-led with recourse to NATO assets) there is a clear discrimination towards (future) EU members that are neither NATO-members nor NATO PfP Partners. They (Cyprus and Malta) "will not take part in EU military operations conducted using NATO assets" and their representatives will, therefore, be not allowed to participate and vote in EU bodies with regard to the implementation of such operations, nor will they receive classified information containing or referring to any classified NATO information.
[20] See: Council decision establishing an operational financing mechanism to provide for the financing of shared costs of a European union military operation in the former Yugoslav Republic of Macedonia (5561/1/03), Brussels, 10 February 2003.
[21] Délibérations du Parlement européen en session plénière à Strasbourg, le 12 mars 2003 (7421/03, PE 61).
[22] NATO turns over former Yugoslav Republic of Macedonia mission to the EU, SHAPE News 31/03/2003.
[23] MENON Anand, Playing with Fire: the European Union's Defence Policy, In L'Europe de la défense : institutionnalisation, européanisation, Politique européenne N°8, fall 2002 pp. 32-46;
[24] GEGOUT Catherine, The French and British change in position in the CESDP, In L'Europe de la défense : institutionnalisation, européanisation, Politique européenne N°8, fall 2002 pp.62-87.
[25] NATO, EU, OSCE Press briefing, Skopje, 23 April 2003. http://www.nato.int/fyrom/hqskopje/2003
[26] Macedonian politicians split over future of Task Force Fox security mission, in Southeastern European Times, 7 November 2003.
[27] Macédoine : entre l'OTAN et l'Union européenne, Dnevnik, 5 November 2002, translated by the Skopje Editorial Office of Courrier de la Macédoine.
[28] See for example, LAMASSOURE Alain, Une politique étrangère commune: l'heure de vérité?; ANDREANI Gilles, Europe de la Défense: y a-t-il encore une ambition française? both in Politique étrangère 4/2002, winter 2002-2003, pp. 879-898 and 983-1000.
[29] Foreign and Commonwealth Office, communiques on 31 March and 8 April 2003; Agence France Presse depeche on 17 April 2003.
[30] Center for European Security and Disarmament, NATO Notes, Vol.5, number 6, Brussels, 6 June 2003.
[31] Transatlantic strains over NATO-EU Bosnia handover, AFP, 4 June 2003.
[32] MacASKILL Ewen, From Suez to the Pacific – US expands its presence across the globe, The Guardian, 8 March 2002; JAHN George, U.S. may use bases in Balkans, Associated Press, 4 June 2003; LOBE Jim, Pentagon moving swiftly to become "Globocop", Foreign Policy in Focus, Global Affairs Commentary, 12 June 2003.
[33] Action commune relative à l'opération militaire de l'Union européenne en République démocratique du Congo, 9955/03, Brussels 4 June 2003 ; Adoption by the Council of the Joint Action on the European Union military operation in the Democratic Republic of Congo (DRC), 9957/03 (Presse 156), Brussels, 5 June 2003.
[34] ZECCHINI Laurent, Les nouveaux habits de l'OTAN, in Le Monde 19 June 2003.
[35] Cologne European Council Presidency Conclusions, Annex III: European Council Declaration on strengthening the common European policy on security and defence, 4 June 1999.
Tags:
europe de la défense
,
otan