23 décembre, 2016
New Brief
Hajnalka Vincze
A mesure que les nuages s'accumulent autour de l'avion Joint Strike Fighter F-35 (pas les mêmes nuages qui l'empêchent de voler par temps pluvieux, ou quand ça gèle, ou quand il fait nuit etc.,[1] mais des nuages politiques cette fois-ci…), les participants européens dans le programme, voire l'OTAN dans son ensemble, sont appelés à la rescousse.Alors même que le prochain président des Etats-Unis envoie des tweets assassins qui remettent sérieusement en question l'avenir de ce programme désastreux,[2] d'autres font des pieds et des mains pour que les F-35 deviennent soudain la solution miracle pour l'Europe. La patronne de la US Air Force déclare vouloir les y voir déployés dès l'été 2017.[3] De par leurs capacités uniques, dit-elle, les F-35 vont pouvoir à la fois « rassurer » les alliés et « dissuader » la Russie.[4] « Nous soutenons pleinement l'OTAN et nos alliés à acquérir ces capacités multiplicatrices de force ». Ce « soutien » est d'autant plus insistant que l'implication des alliés européens est surtout censée verrouiller/sauver le programme face au risque d'une éventuelle annulation[5] à Washington.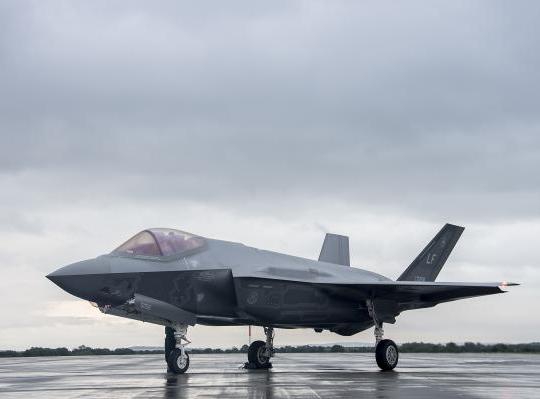 Crédits photo: Lockheed Martin
[1] Adam Ciralsky, Will it fly ? , Vanity Fair, 16 septembre 2013.
[2] Trump calls fighter jet costs 'out of control', CNN, 12 décembre 2016.
[3] US Air Force F-35s Likely Coming Soon to Europe, DefenseNews, 22 décembre 2016.
[4] Propos de Deborah Lee Jones, Secrétaire de l'US Air Force à l'Atlantic Council, 19 décembre 2016.
[5] Jeremy Herb, Trump drops Twitter bomb on Lockheed Martin's F-35 fighter jet, Politico, 22 décembre 2016.
Tags:
armement
,
joint strike fighter/f-35