21 mars, 2019
New Brief
At the Atlantic Council in Washington, Florence Parly turned her recent speech on Franco-American relations into a well-argued plea in favor of an autonomous Europe. That a French official speaks of European autonomy is anything but new. But Parly orchestrated her entire presentation around this concept and, in front of a prestigious US audience, she did not hesitate to tackle head-on the most controversial matters.
The minister started off with the habitual elements of this type of discourses, such as the inescapable reference to American soldiers who lost their lives on the beaches of Normandy in World War II, or the comical competition with Britain to decide which one of America's two historical allies is the most important. She also added a theatrical "thank you" for maintaining, these days, the United States' "incredible" commitment in Europe. While there is no doubt about her sincerity, on this very last point, however, one can reasonably suspect a slight touch of irony. Indeed, never has it been so obvious than today that the US commitment to Europe does not stem solely from altruism. Faced with a president Trump who questions the Atlantic Alliance's relevance, the US military-diplomatic establishment has been tirelessly drawing attention, in remarkable unanimity, to NATO's many advantages... for the United States.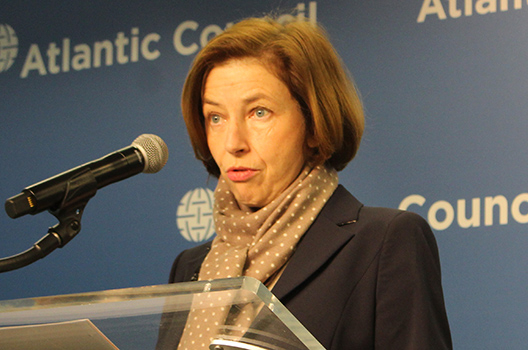 (Credit photo: Atlantic Council)
Still, the French minister insists on the current uncertainty of US security guarantees – this uncertainty is actually in-built, but unfortunate statements from president Trump have recently brought it to the forefront. Evoking the US president's question marks over Article 5, Parly notes that Europeans are worried about how perennial the US commitments really are. She seizes the opportunity to slip in a long-time taboo subject: the possibility to organize, among Europeans, their collective defense. According to her, Europeans "started to prepare, just in case": based on Article 42.7 of the EU Treaty, they "must grow the notion that a threat to our fellow Europeans is a threat to each of them, and that we need to step up and help, without waiting for the US to always foot the bill." While at it, Parly touches upon another sensitive topic. President Macron's recent European Intervention Initiative aims, she says, to develop, between capable and willing countries, capacities for planning and conducting military operations – something that strangely resembles past projects strongly opposed by Washington and London, under the pretext to avoid so-called duplications with NATO.
But Parly goes further. In a masterful reversal of the eternal reproach addressed to the Allies, she asserts that Europeans should, indeed, no longer be "free-riders" of their own security – and, in this spirit, they should be part of US-Russia negotiations, for instance on the INF Treaty. Yet the highpoint of the minister's speech was the segment on the armaments industry. She subtly echoes President Macron's recent words on CNN pushing for a sort of "European preference", but also refutes any accusation of protectionism: "I say: think again. Belgium buys F35. Sweden buys Patriot. Poland buys Himars. Europe has the single most open arms market." Parly says she is "personally more concerned at the notion that the strength of NATO's solidarity might be made conditional on allies buying this or that equipment." She concludes with this memorable "bon mot" (witty remark): "NATO's solidarity clause is called article 5, not article F35."
Manifestly, French diplomacy has come to realize that they must first convince Washington if they want their European partners to dare to behave as such, and remove some long-standing blockages. Florence Parly's speech is, therefore, addressed to both audiences. She explains that "building a European autonomy should never be seen as a move against the US. It should certainly not become a reason for the US to be less engaged: quite the contrary". Autonomy, she says, is our way of sharing the burden – the only way that would allow for the partnership to be rebalanced. The logic behind her reasoning is flawless, France has been advocating the same for decades. And it has always stumbled on EU partners' reluctance – a reluctance that some (such as a former State Department official, along with the former British chief of the European Defense Agency) describe as "an unhealthy mix of complacency and excessive deference towards the United States." Admittedly, as Robert Cooper (grey eminence of the EU's External Action Service) notes, European autonomy would be utterly logical. But, he continues, "the world does not proceed by logic. It proceeds by political choice."